May 17, 2023
What a great start to Q2 - 2023! At the end of April, ten hc1'ers made the trek to The Big Easy to attend the Executive War College (EWC) in New Orleans, the world's largest event focused exclusively on the management of medical laboratories and the ecosystem that supports them. Not only was hc1 a Benefactor Sponsor for this premier event, we also had three incredible opportunities to present to more than 950 leaders of the nation's most innovative labs.
The success we saw from attending EWC in 2022 made it easy for us to go all-in for this year's event to increase our visibility and impact. We also expanded our sponsorship to become one of the top event sponsors, doubled our onsite team presence and went from one speaking session in 2022 to three sessions in 2023.
"EWC is such a great way for us to connect with other lab leaders, current clients and prospects and to spend time with our hc1 team," said Jennifer Maxwell.
There is an energy at EWC that is hard to explain unless you're there in person to experience it. The onsite EWC team has brought that energy back to hc1 with renewed determination and motivation for improving healthcare.
"EWC is a premier conference for sales prospecting due to the vast number of lab leaders in both the commercial and health system space," Scott Hudson, senior director of sales and operations management at hc1 said. "The conference provides the exciting opportunity to further develop existing relationships with our lab contacts and establish many new connections as well. The three speaking sessions led by our hc1 team members allowed us the opportunity to showcase our unique capabilities of leveraging lab data to generate actionable insights and create an overall buzz about hc1 at the conference."
The first full day of the conference was huge for hc1. Kicking off the Tuesday morning session was our Executive Director of Client Success, Jennifer Maxwell and Zac Zahara, COO of Laboratory Services, MultiCare Health System. During their presentation, "Leveraging Real-Time Operational Lab Data Across 11 Hospitals to Track Workflow, Staff Productivity, and Manage How Physician Clients Benefit from Lab Testing," the attendees learned how MultiCare is leveraging hc1 Insights to drive accountability, workflow changes and education paths in the health system's lab.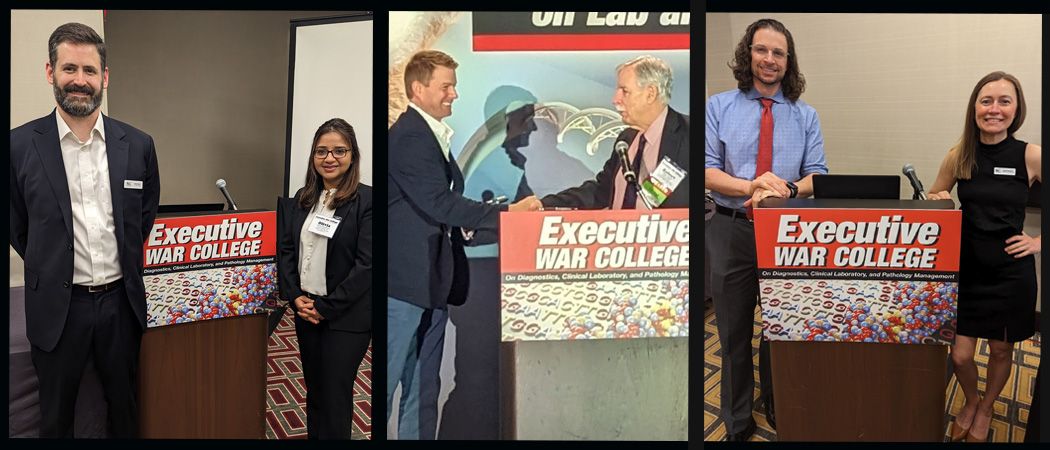 Just before the lunch break, hc1 chairman and CEO Brad Bostic took the main stage in front of 500+ attendees and discussed the current state of Big Data and the lab's opportunities in transforming healthcare. During his "Generating Value by Identifying Risk Signals in Longitudinal Lab Data: Opportunities in Big Data with Payers, Physicians, Pharma, and Bioresearch" presentation, he shared the possibility large language models, like ChatGPT, have to transform healthcare delivery, as well as the potential for perilous consequences if left unchecked (see: Hal 9000 from Stanley Kubrick's 1968 film 2001: A Space Odyssey).
Day 2 at EWC was off to another busy start for the hc1 team. Our VP of Data Strategy, Chuck Girard, and Olivia Choudry, Ph.D., senior partner solutions architect, AWS, led a benefactor session presentation. Presenting "Using Machine Learning and AI to Unlock the Full Value of Your Laboratory Data" to an almost-capacity crowd, Chuck and Olvia shared how unlocking the hidden value in lab data can create added benefits and differentiate you in the lab space.
Although the team spent a very busy 72 hours in New Orleans, several new connections were made and existing relationships were strengthened.
We are already looking forward to and planning for Executive War College 2024!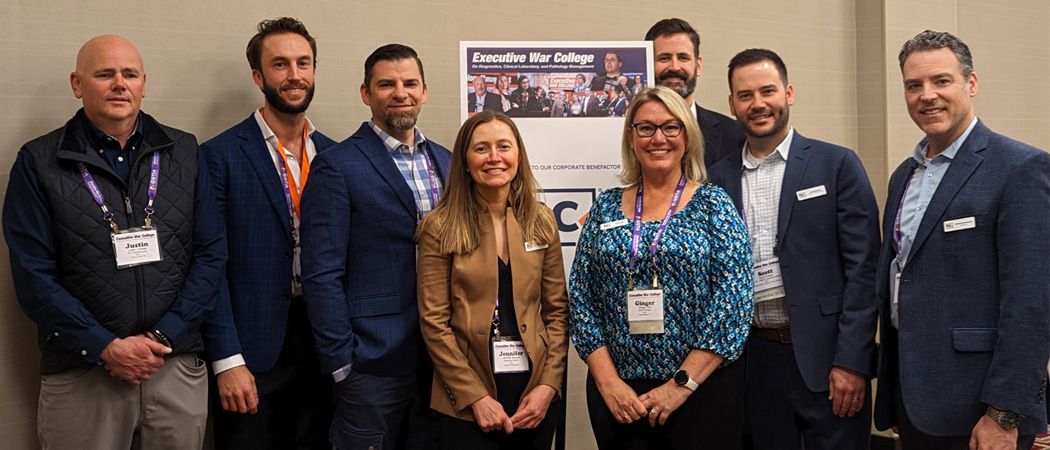 Between now and then, we have more exciting in-person opportunities to make connections and share our solutions and experience with the lab industry.
Next up for the hc1 team is ASCLS, AGT & SAFMLS JAM in Providence, RI, June 26-30. Jennifer Maxwell will again take the stage, this time with Brandy Gunsolus, DCLS, MLS (ASCP) CM, doctor of clinical laboratory science, Augusta University Medical Center, and Brooke Whitaker, DCLS, MLS(ASCP)cm, manager, clinical laboratory, Novant Health Rowan Medical Center. You can find us at our hc1 booth in the exhibit hall and onstage during our Commercial Symposium (time and location TBD). John Moyer, sr. product manager and Adam Sajewich, dir. of high-value care will introduce hc1 Workforce Optimization™, our exciting new solution that will ease the burden of insufficient staffing in clinical labs.
The following month we'll be heading to the West Coast, July 23-27, for the 2023 AACC Annual Scientific Meeting and Clinical Lab Expo, the largest event we'll be attending in 2023. With 17,000+ people, hc1 will be one of 750 exhibitors. We will showcase hc1 Insights solutions at our booth and present a lecture series session alongside AWS. Watch our events page at hc1.com/events for more information and for more upcoming events. To be sure not to miss seeing us at events nationwide—sign up to join our hc1 events mailing list!
___________________________________________________________________________________
Ginger Hart has served as the Events Manager at hc1 since 2021. Before joining hc1, Ginger worked in event management in the pharma industry. Before entering healthcare, Ginger was an Events Manager at Google HQ in Silicon Valley, CA, for 11 years. She currently lives in Zionville.